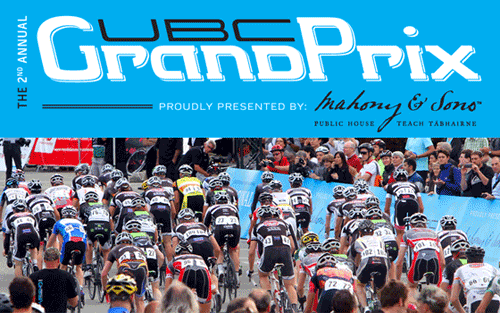 Still Creek Press is thrilled to be the official print sponsor the 2nd annual UBC Grand Prix 2012. The event will include corporate races, kids races, and will feature pro/am races for some of North America's top cyclists. Join us July 10, 2012 for a fun filled day with activities for the whole family.
The UBC Grand Prix promotes cycling as both a "vehicle" to a healthy lifestyle and as a safe, sustainable, means of transportation. Financial support from the event will go to the BC Sports Medicine Research Foundation.
Spectate. Participate. Sponsor.
Watch the event. The UBC Grand Prix expects to draw upwards of 3000 – 5000 fans that will include students, staff, residents of UBC, children and cycling fans from around BC. During the summer there are some 15,000 students on the UBC campus, so this could lend itself to a fun summer evening for all.
Be a racer. Whether you're a pro rider or a recreational rider, there is a race fit for everyone. Register or get more information on either the corporate races or the kids races.
Sponsorship opportunities. If you would like the opportunity become a partner of the UBC Grand Prix, download the Sponsorship Outline (PDF) or contact Phil Moore, Director of Sponsorship.
Visit the UBC Grand Prix website for full details.
Find more like this: Community