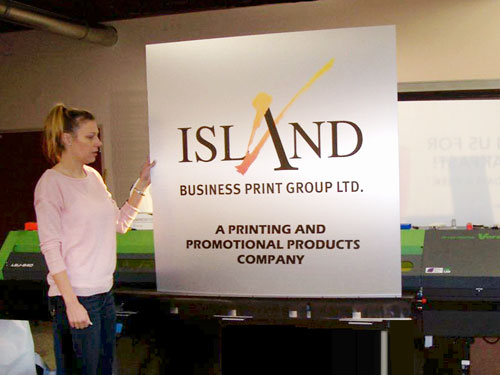 Our Studio Crafted™ hybrid UV-curable inkjet printer is more than capable of producing high-quality, multi-colour large format printing on a wide range of flexible roll-based substrates. But were you aware we also have the ability to print on rigid materials?
Here's our list of the top 7 most common substrates and their applications as used by our customers since we introduced our Metro Vancouver-based signage printing service last fall.
1. Foam Core Board (Foam-Cor)
A very strong, lightweight and easily cut material consisting of three layers — an inner layer of polystyrene clad with outer facing of either a white or brown Kraft paper.
Applications: short-term life POP displays, exhibits & kiosks, interior signage, and displays
2. Corrugated Board (Coroplast)
A sheet with 2 skins separated by vertical ribs. These ribs create a series of "flutes" that run the length of the sheet. The square box shape of the flutes makes the sheets rigid and strong yet very lightweight.
Applications: short-term life Interior and exterior signage, free standing displays, truck and bus boards, billboards, point of purchase advertising, trade show exhibits, counter displays, packaging
3. Styrene / ABS Sheet
Versatile and inexpensive, this material is 100% recyclable.
Applications: short to medium life POP Displays, interior signage, packaging, bus advertising
4. Expanded PVC (Sintra)
A lightweight yet rigid board of polyvinyl chloride (PVC) extruded with a low gloss matte finish. Dent and scratch resistant. This material is recyclable.
Applications: medium-life POP displays, exhibits & kiosks, framing, interior and exterior signage
5. Paper Board / Card Stock
A recyclable, lightweight viable alternative to foam core sheets.
Applications: short-term life posters, POP displays, packaging
6. Aluminum Composite Panel (Dibond)
An aluminum composite material made of two pre-painted sheets of .012″ aluminum with a solid polyethylene core.
Applications: long-term life POP displays, exhibits & kiosks, framing, interior and exterior signage
7. Acrylic / Plexiglass
Economical, provides tight thickness tolerance, high optical characteristics and low stress levels. 50% lighter than glass.
Applications: POP displays, light boxes
Would you like more information regarding large format printing on either roll-based or rigid media? Contact us today for more information or request a custom print quote online.