Every year, artisans from across Austria gather in the city of Salzburg to showcase traditional crafts and cuisine at the Salzburg Rupertikirtag. The annual festival is one of the city's largest and most historic Autumn markets and also features art exhibits, brass bands, street theatre and events for children.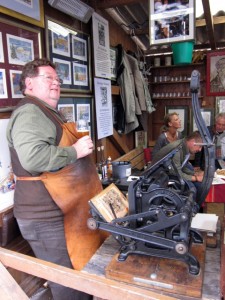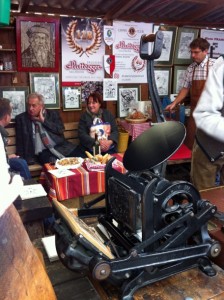 ---
One of our print technicians at Still Creek Press, John Seed, was fortunate enough to take in this festival while on vacation this past month. He reported back saying that every street was filled with booths featuring artisans such as woodcarvers, iron workers, potters and bakers. Although the most interesting part for him was the booth dedicated to paper making and printing:
"Each year a designer is asked to contribute a design to be traditionally printed on a small letter press machine using sheets of paper that are made on site. Each step of the process was happily demonstrated by the team inside. The designer was honoured with wine and nibbles (the press man was drinking beer) while autographing prints as they came off the press. The whole event was very festive with drinks being enjoyed by all. Prints from years previous decorated the stall and a large picture of Gutenburg himself was prominently displayed. People were lined up to buy the prints as a memento of the day."
The paper making and printing booth at the Salzburg Rupertikirtag is a great example of how print is still celebrated and appreciated as a craft with traditional techniques in modern times. What other festivals or events show appreciation for the art and craft of printing?
Find more like this: Featured, Still Creek Press Employees, Technologies