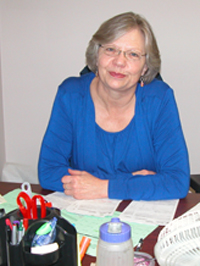 We would like to take this opportunity to congratulate Barb Duncan on her recent retirement from Still Creek Press Ltd. She enjoyed her role as a salesperson at SCP and offered exceptional service to her customers throughout her years of employment.
Barb began her career in the printing industry at Shears Printing where she worked in an administrative and accounting role. She worked at Shears for over 10 years before moving to Trade Business Forms (now Still Creek Press Ltd.) in 1997, where she was trained as a salesperson for business form printing.
After almost 15 years of employment at Trade Business Forms and Still Creek Press Ltd, Barb has now decided to retire. She will be greatly missed not only by her coworkers, but also by her longtime customers who have praised her for being professional, courteous and easy to work with.
Although we are saddened that Barb has moved on to a life of never ending weekends, we are happy to announce the addition of Jordan Anderson to our sales team. Jordan is a graduate from the University of British Columbia where he completed his undergraduate degree and also pitched for the UBC Thunderbirds. Welcome to the SCP team Jordan!
Find more like this: Community, Featured, Still Creek Press Employees