Guest post from Christine Franz, Accounts Receivable, Still Creek Press …
With mixed emotions, we would like to wish Renée Belair a happy retirement from Still Creek Press. Renée worked in the accounting department and was in charge of payroll (which she credits for making her a staff favorite at SCP) and accounts payable. But before this position she led a prosperous and exciting career in the printing industry.
In 1991, Renée and her husband Bill created a graphic design and typesetting company named "Just Your Type" (JYT), the name of which apparently caused confusion for those searching for an escort agency. It grew quickly to eventually have 20 employees and an additional location called "JYT Express", to serve the quick copy needs of downtown Vancouver. Renée fondly remembers the close knit group at JYT always regarding her employees as part of her family. In 2005, Renée and Bill chose to sell JYT due to Bill's declining health and felt that local owners were the best option. A group with ownership in Trade Business Forms was the best option. In 2007 JYT and Trade Business Forms merged to become Still Creek Press. Renée continued on in the accounting department as it was always her hope to keep the "JYT family" together.
I personally had the enjoyment of working with Renée the year before her retirement. She was always up for a morning chat over coffee, known to swear viciously under her breath in French while on hold with the CRA and great fun at our company events. She will be greatly missed but we wish her a relaxing and fun filled retirement.
Best wishes Renée and ride on!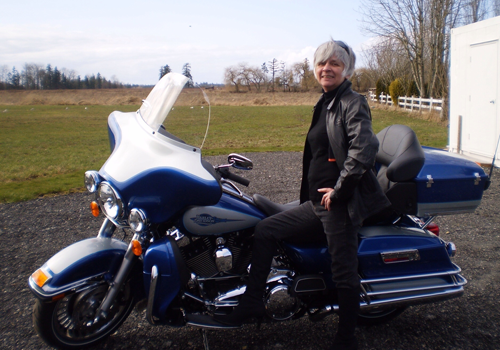 Find more like this: Community, Featured, Still Creek Press Employees