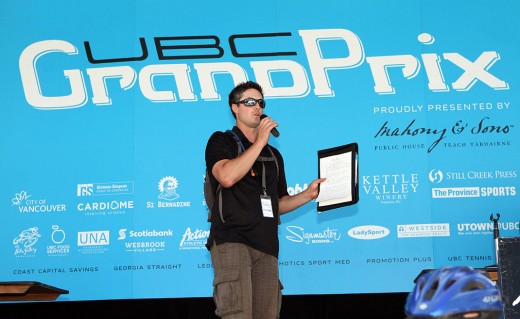 You're on the starting line clipped in to your pedals and on your right is the Marketing Director of a company you've been trying to land a deal with for the past six months; and on your left is your closest competitor, who for the last three years, has kept you in second place for generated sales in your line of work. You wait for the gun to fire and now it's full gas for the next 24 laps!
Welcome to the 2014 Still Creek Press Corporate Challenge, which takes place on Tuesday, July 8th at 2pm during the UBC Grand Prix, presented by Mahony & Sons. This race-within-a-race features some of Vancouver's top business executives, marketing directors, media personalities and recreational cyclists who will race around the professional course against their counterparts to see whose team will be crowned champions. Divided into two categories, riders have the choice to race in either the ELITE or REC division. Those that opt to race in the ELITE division have previous racing experience and want to push their limits out there as this is a great opportunity to feel like a pro cyclist for the day. In the REC division, riders don't have as much experience and compete in more of a friendly way and ride to see whose team time will be the closest to their predicted team time (which was set at the beginning of the race). Each team registers five team members; four ride and one is that team's dedicated time keeper – all five are given VIP passes to the exclusive Mahony & Sons VIP tent.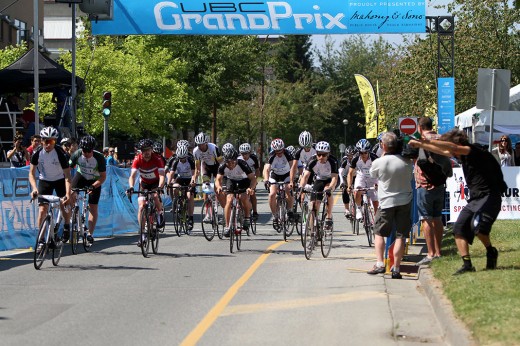 Two great new features have been created this year for the Corporate Challenge: first is the Industry Challenge. This part of the event challenges companies that work together day in and day out, who want to take their professional competitiveness to the race track and see once and for all, who really is the top dog. The second feature to this year's event is the Circle of Loyalty. We believe that participating in a race like this requires innovation to connect like-minded people with each other to create opportunities and leverage the experience. The Circle of Loyalty program actively connects riders and sponsors of the event so that they may offer exclusive incentives to do business with one another merely based on the fact that they share cycling as a common thread and have a direct relationship because of this one event. This program will continue to show its value well beyond the last rider crossing that finish line!
We are still registering teams for this event and would love to have your company participate! As an added bonus to registering, your riders get access to a training ride led by a pair of professional cyclists from Team H&R Block. On Saturday, July 5th at 9am, you can meet this group for a two-hour training session to learn the technical side of riding in competition – a must attend event that's included in your registration!
To find out more information on the event, visit www.ubcgrandprix.com or contact the Director of the Still Creek Press Corporate Challenge, Steve Bell-Irving at CorporateChallenge@ubcgrandprix.com.
Find more like this: Community, Featured, Still Creek Press Employees