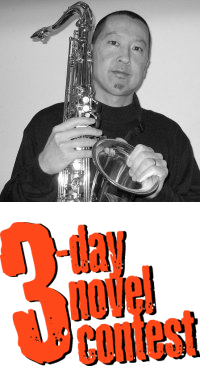 Between midnight on Friday and midnight on Monday of this coming Labour Day Long Weekend our finance manager, Glenn Mori will be writing a novel. What's unusual other than the time span (a mere 72 hours) is that he'll be composing it entirely in the boardroom of Still Creek Press as a competitor in the 34th Annual International 3-Day Novel Contest.
The contest takes place every Labour Day, as it has since 1977. First prize is publication, 2nd is $500 and 3rd is $100. Entrants write in whatever setting they wish, in whatever genre they wish, anywhere in the world. The contest operates on the honour system, which works just fine as the contest is first and foremost a writing experiment.
During the competition Glenn will be posting occasional updates on his website and he'll have a live webcam so you can watch him direct from our boardroom as he struggles to write his novel. At the same time Glenn will be trying to raise funds for the Vancouver Fringe Festival via his Canada Helps donation page.
Glenn's website will be primarily active between Friday, September 2, 2011 and Monday, September 5. Go pay him a visit and find out more information about the 3-Day Novel contest, about the Vancouver Fringe Festival, and a link to his personal giving page on Canada Helps.
Find more like this: Community, Featured, Still Creek Press Employees