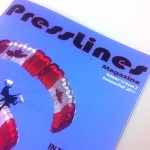 We were excited to have had the opportunity to print the current issue of Presslines Magazine earlier this month. Presslines is published three times a year by the British Columbia Printing & Imaging Association (BCPIA), an organization that represents the printing industry in British Columbia.
In addition to being able to demonstrate our magazine-quality full-colour commercial printing output to members of the printing trade, we were also able to promote our new Studio Crafted™ large format signage service by placing a half-page ad in the magazine.
We created the ad to build awareness – within the wholesale printing trade – of our new Studio Crafted™  signage services, produced with the same standards of quality we demand from all our litho work. This means customers receive the same exacting colour management, resilient media standards and sustainable green printing options.