Acrobat 9 Pro includes a suite of Print Production tools you can use to prepare documents for high-end printing. Choose Advanced > Print Production or View > Toolbars > and select Show Print Production Toolbar to display the set of tools.
Although these tools are intended for high-resolution printing, several of them can be useful in many business-based production situations as well.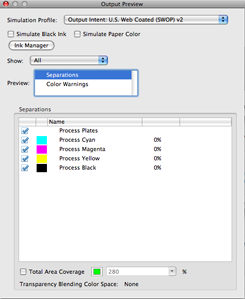 Click Output Preview to open the Output Preview dialog.
Make sure Simulate Overprinting is turned on within Output Preview
Make sure in Acrobat Preferences > Page Display that Use local fonts is turned off
From the Simulated Profile menu, choose options to show you how your document would look using different types of paper, monitors, color profiles, and so on.
Soft Proofing
Use the Output Preview dialog features to simulate different conditions. In Acrobat, you don't have to print a hard copy to preview the colors. Instead, soft proofing shows you how a document will look in print.
Select the Simulate Black Ink check box to preview how the document would look printed in black ink.
Select Simulate Paper Color to preview the color of your document printed on white paper.
Select Set Page Background Color and choose a color from the color palette to see how your document looks against a colored paper background.
Find more like this: Featured