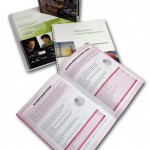 Booklet and manual printing is the perfect solution when you need an event program, a training manual, a sales booklet, or even a tradeshow giveaway.
Paired with our mailing and addressing services, printed booklets and manuals can also make a high impact direct mail piece.
Booklet and Manual Printing Services
Booklets are essentially miniature books that provide useful information to the reader and are an ideal solution for presenting information in a condensed, yet organized format and size. Still Creek Press has knowledgeable design and printing specialists to help you print booklets that are right for you.
Manuals are small multi-page booklets that provide the reader with a complete list of features about a product or idea as well as set of instructions on how to work with the particular device or concept. As a full-service printer, Still Creek Press can help you create training, human resources, educational and user manuals.
Our Booklet and Manual Printing Services Include:
Digital printing – black & white or full color
Single or double-sided page layout
Paper options – style, weight and color
Finishing and binding (Spiral, Cerlox, Wiro Bind, Saddlestitch)
Special component options – custom tabs, CD/DVD pockets
Fulfillment and packaging options
On-demand or large quantity printing
Our booklets and manuals printing at Still Creek Press is a complete in-house service, making it quick, efficient, and affordable! Our experienced technicians will make sure you get the high-quality print materials you are looking for. Contact us today and find out what we can do for you!