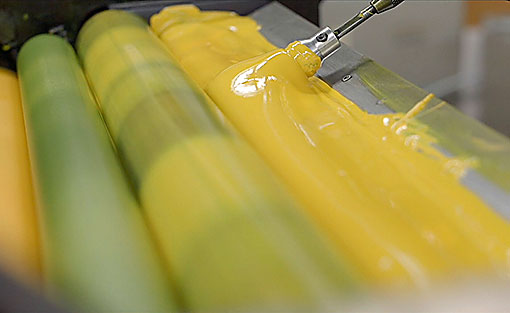 We finally completed our Still Creek Press promotional video early last month. In that it was the first we had ever done, we found it somewhat difficult to limit what we wanted to communicate in under 90 seconds. However, our production team managed to capture some great shots of all the action that takes place from the time a print project arrives in our prepress department for platemaking to its eventual placement at our shipping bay in preparation for delivery to a customer's preferred destination.
In between, there are shots of our sheetfed presses—used to print larger quantities of full-colour printing jobs such as brochures, flyers, and inserts and shots of our web presses—used to print business forms, multi-part snap set forms and books and magazines.
We also made sure to capture some nice action shots of our latest product offering, Studio Crafted wide format printing. We now have two wide format printers operating at almost full capacity these days busy printing anything from display graphics such as large signs and posters to construction fence mesh and outdoor signage. Lately, we've begun using the equipment to manufacture prototypes for various packaging projects.
Next, we quickly tour through our Digital printing department where all of our short-run print work is done. Stuff like business cards, on-demand books and booklets as well as personalized business cheques. This is also where our variable data printing is done for one to one marketing campaigns and cross-media marketing campaigns.
All together it makes for a brief, nicely paced informational video that manages to describe very succinctly the core products and services performed at Still Creek Press and as well as our Print Made Easy customer service.
Check out our "virtual tour" of Still Creek Press below and let us know what you think!
Find more like this: Featured, Large Format Printing, Resources, Services, Still Creek Press Employees, Technologies