We've recently added a QR code banner to the outside of our building in hopes to increase awareness and create some buzz around this relatively new technology.
Most importantly though, this new addition showcases our cutting edge capabilities as a print service provider in creating cross media marketing campaigns for you, our valued customer.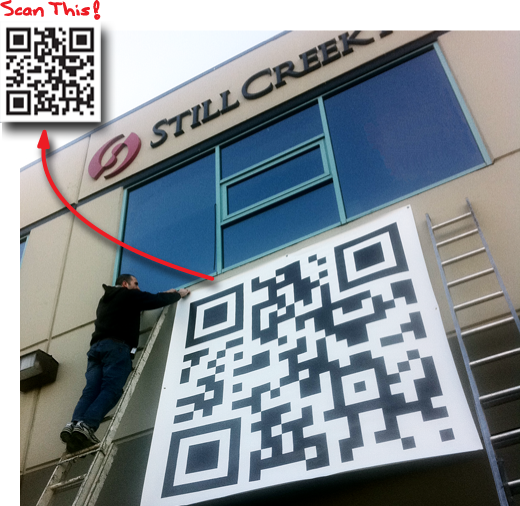 Integrating QR Codes into print media
QR codes are a brilliant addition to print media. They are a great way to drive offline customers to your website, or to give them information they can read, or store in their phones. Here are some immediate business uses:
Event invitations
Handouts or signage at tradeshows and conferences
Annual reports or newsletters
Mailers and direct marketing materials
Letterhead, envelopes, business cards
Product packaging and labels
Promotional items such as notepads, stickers and buttons
Business forms

Print it, and they will come
From the consumer's standpoint, all one needs to do is scan any QR code they encounter using a smartphone. Ideally, they will immediately be led to a custom mobile site with the originating company's branding containing links to key information and sites. A QR code can be scanned with iPhone app or any standard QR code reader app for iPhone, Android, Palm, or BlackBerry, among others.
Effective and easy to do
Implementing QR codes into print and online marketing campaigns is effective and easy to do, contact one of our helpful sales staff to see how you can get on board with this technology.
Find more like this: Emerging Technologies, Featured, QR Codes