Prints board stocks up to ½-inch thick and 64 inches wide!
Our new Roland VersaUV hybrid large format signage printer is perfect for our customers because it allows us to accept both rigid and flexible media all in one unit.
It solves a broad range of signage solutions including packaging prototyping and short run label production and prints directly onto a wide range of substrates – even carpet and glass, the possibilities are endless.
Unsurpassed Media Compatibility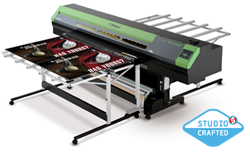 We can now print on virtually any substrate, from thin flexible films to 4 ft by 8 ft lightweight board and cardboard stocks up to 13mm (0.51") thick. This makes it ideal for wide format signage and point of sale displays, window graphics, exhibition displays and related items.
The low heat UV LED lamps allow printing on heat-sensitive media such as shrink wrap, pressure sensitive media and paper stocks with no risk of damaging or distorting the substrate's shape or surface finish.
Some examples of applications using flexible media
Flexible applications are everywhere. Flexible substrates are "bendable" like paper and some examples include:
Self-adhesive vinyl
PVC banner
Kiss-cut adhesive labels
Backlit film (for light boxes; used in shopping malls and stores)
Blue-back paper and polyethylene
Offset printing stock
Window coverings, tapestries and other interior décor items
Some examples of applications using rigid media
From store signage, to event displays, to custom cabinets and even short run packaging, rigid applications include printing on media such as:
Corrugated cardboard for folding cartons
Foamcore or gatorfoam for POP and exhibit walls
Foamed PVC board
Corrugated polypropylene and acrylic
Polycarbonate sheets for membrane switch applications
Aluminum composite panel materials
Wood, ceramics, glass and other exotic substrates
magnetic material
Applications other than signage printing
Printing on glass is the fastest growing application. At the recent APPPEXPO trade show in Shanghai, more than 80% of the Chinese manufacturers of dedicated flatbed UV printers stated that most of the companies buying their printers were to print glass.
Another interesting non-signage application is printing on ceramic tiles, in which there are two main focuses: printing on raw unfired tiles or printing on finished.
Do you have an application that requires large format signage printing?
Contact us today for more information or request a custom print quote online.
Find more like this: Featured, Green Printing, Services