As a follow up to our New Years Resolution, Let's Talk Honestly About Going Green, we thought we'd discuss some of the procedures that we've put into place in order to demonstrate our environmental commitments to sustainable printing.
One of the first measures initiated was that we asked for the involvement of all our employees. Experience has shown that employees, when engaged and empowered, make a greater number of good suggestions in the identification of more green opportunities.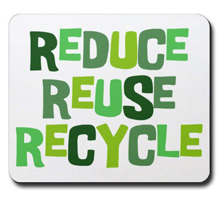 Humble Beginnings
One of the most obvious approaches in green printing is to begin with the "Three R's": Reduce, Reuse, and Recycle. The power of the "three Rs" is found in their ability to drive the company's focus toward understanding and justifying why an activity, process, technology, or particular chemical is necessary and what could be done to reduce, reuse or recycle the material.
Conservation Measures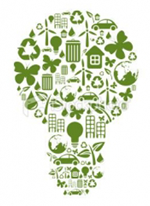 Our initial efforts were primarily focused on reducing our consumption of electricity, heating, and water. Reducing energy and water consumption is good for the environment, it benefits all the inhabitants of the planet by making more resources available, and it is great for our bottom line, because it cuts costs.
Some of the simple, low-cost, energy-saving steps that we introduced were:
Turning off all computer monitors when not being used
Decreasing the temperature by one degree than usual
Fixed air leaks in our compressor
Made notes in each room reminding staff to shut off the lights when rooms are not in use
Inspecting plumbing systems for leaks and repairing them
The Next Step
In promoting these initiatives, we believe that we will be able to save money as well as do our part for the environment. Stay tuned for our next installment, where we investigate methods in which we can recycle and reuse printing materials in order to minimize the amount we send to the landfill.
Find more like this: Featured, Green Printing