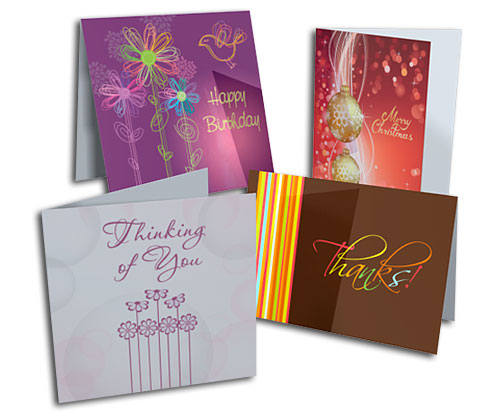 Custom greeting cards are the best way to send a unique or special message. They're perfect for holiday greetings, new product or service announcements, anniversary celebrations, party invitations, or just simply saying "hi". Custom greeting cards become much more relevant to the recipient as you have complete control over the message and graphic elements. The following are four essential elements to consider when creating custom greeting cards:
Standard Physical Dimensions
Custom greeting cards are optimally printed at a size of 10″ x 7″, or when folded, at a size of 5″ x 7″ (portrait) or 7″ x 5″ (landscape). When printing on card weight stock, the card is usually scored before being folded. Each card can then be enclosed within a standard-sized (7.25 in x 5.25 in) greeting or invitation envelope.
Photography and Artwork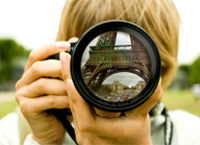 Truly custom cards are best created using your own artwork. Take your own photographs, draw or paint your own artwork with traditional or digital software tools. This ensures a truly original and unusual card that will reflect your own personality. Try to avoid artwork found on websites, as the resolution is usually inadequate for printing. In saying this, stock photography and clip art websites are usually fine as long as the artwork can be obtained at a reasonable resolution—220 dpi or higher.
If you are interested in finding out how to obtain quality resolution photography on a budget, visit our post on the Top 10 Free Stock Photography Sites that we recommend.
Textual Content and Typography

Here's an opportunity to create a relevant targeted message for your audience. Compose something memorable that doesn't rely on sounding "canned" or mass-produced. Remember, custom cards can be created for many occasions—beyond just Christmas. Thanksgiving Day, Hanukkah, New Years Day to name just a few.
A carefully thought out typeface can also make a custom greeting card stand out from those commodity cards purchased at the drugstore. Just remember to keep the variety of typefaces to a minimum.
Enhanced and Environmentally Friendly Printing Effects
Custom greeting cards designed using additional spot varnishes, metallic or spot colours and embossing or die-cutting effects can add to the cost of producing the card but will also dramatically increase the impact that the card will have on the recipient.
Alternatively, show that you're committed to sustainable printing by selecting any of our many eco-friendly Forest Stewardship Council® (FSC) glossy, matte or uncoated card stock options. All your eco-friendly green greeting cards will be printed with low VOC vegetable based printing inks.
Ask Us for Help
If you take the time to consider these four essential elements when creating your custom greeting cards, you will truly have something unique and professional looking to send your audience. If you'd like to learn more about creating custom greeting cards, ask to speak to any of our experienced sales representatives.