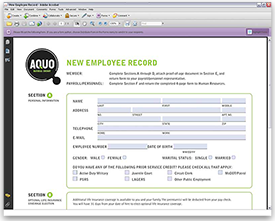 Did you know we can convert your company's collection of paper and digital business forms to PDF forms that can be filled out electronically? All we need to start with is a scanned paper form or a form created in Microsoft Office or page layout software such as Adobe InDesign or QuarkXPress.
What's really cool, is that if you own a copy of Adobe Acrobat Professional you can distribute the form and collect its responses back by email. Acrobat creates a dataset file that it uses to keep track of responses returned from your form. At any time, you can open the dataset with the Tracker tool within Acrobat to view all the responses that have been returned so far!
Want More Information on Fillable PDFs?

Request a quote for fillable PDF creation. One of our Print Made Easy account representatives will contact you regarding your request.
---
Find more like this: Featured, Services, Technologies