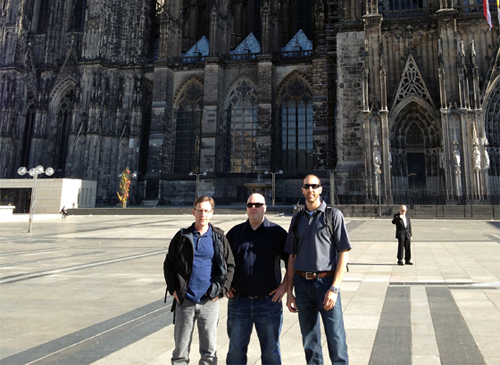 This past May, Still Creek Press was in Europe taking in the largest printing equipment exhibition in the world, Drupa. The two week exhibition is held every four years in Düsseldorf, Germany. Event highlights by Ted Mason.
Drupa 2012: Larger Than Life
We came, we saw, we were enlightened. Four days of non-stop information overload – interrupted only by 1/2 liter weiss beers and bratwurst here and there. This was my first Drupa, so my only comparison to draw from would be Graph Expo, which I've attended a few times now. I read the attendance was down to about 413,000 unique visitors, but the show was definitely hopping at times. My first impression was sheer amazement at the spectacular size and scale of the event. I used to think the Chicago show was a chore just to see everything, but with Drupa it was simply impossible. Imagine McCormick Place in Chicago times about 10! There were 19 halls in total covering everything from commercial print, bindery & finishing, paper converting, to even used equipment sales. Quite honestly I don't think you could cover the entire scope of the show if you attended from start to finish. I felt for some of the vendors who had been there for the duration, the drain was beginning to show in some of them.
The Hybrid Drupa
Drupa 2012 was promoted as the "Hybrid Drupa" and with good reason. There definitely seemed to be a mesh between a wide variety of conventional printing techniques with the latest technological devises. A great example was Gallus, who were running a web press that married multiple styles of printing in one pass; gravure, flexo, cold foil, screen, emboss and diecut all inline to create folded package products. Inkjet once again seemed to dominate a large portion of the arena, but still has not advanced enough to rival the output quality of offset or even cut sheet digital devices. To me that came as a bit of a surprise, however it was very obvious the number of vendors pursuing this avenue has grown substantially. Nevertheless, there was a wide assortment of vendors lending their technologies and partnering together to meet industry demands. Overall, there certainly was a continued decrease in offset presence but that was substituted by a rise in the inkjet and digital forays.
Drupa's Latest and Greatest
As expected there were a few "latest and greatest" unveilings, probably none more hyped than Benny Landa and his new Nanography innovation. Imagine a Heidelberg SM74 with a massive iPad mounted to the operator side. Like something out of Star Wars, the intention is for the operator to utilize touch screen simplicity to run the inkjet press emitting minuscule droplets of ink onto a blanket-like conveyor rather than directly onto the substrate as with other conventional inkjets. It was advertised to be the re-invention of the wheel but sadly, apart from the fancy futuristic screens and software, it really didn't live up to expectations. In fairness, I've learned they have now signed deals with a few of the major players such as Komori and HP so it may not be just a pipe dream after all.
Xerox, the VIP Lounge and Cirque de Soleil
Xerox was, as expected, a major presence at Drupa and made sure to stand out. Their VIP areas were always awash with food, free beer and even live Cirque de Soleil shows 3 times a day! Our Canadian reps were also gracious enough to take us out on the town in Dusseldorf to unwind after a long day at the show. The following day we must have spent half of our day demoing new software and viewing all the latest hardware they had on display in their "booth". That is both the beauty and downfall of Drupa; it is so easy to get caught up with just one vendor because there is just too much to see with each of them.
Wrapping Up Drupa and Enjoying the Sights of Europe
The reality of Drupa is that is a fantastic way to stay abreast of all the latest technologies, trends and directions of the industry. It is also a very valuable tool in creating in-house innovation as you learn so much just by seeing what other people are doing through different practices we might never have discovered otherwise. Having said all that, it would be fun to go there with a massive cheque book and stock up on new toys! Having Dusseldorf and Cologne as the backdrop to whole show didn't hurt either. We also made sure to enjoy the German culture of salt, beer, fried pig, and more salt! Strolling through cobble stone streets and gazing at exquisite architecture mixed with modern conveniences is something we are truly missing in North America. It seems like every corner you came around there was another piece of history to behold. After digesting everything I saw at Drupa 2012, it is now time to put it to work!
TM, Partner – Still Creek Press
Find more like this: Emerging Technologies, Featured, Still Creek Press Employees